AMLP News

AMLP at Stevens Memorial Library's Summer Reading Kick-off 2018
News Updates from AMLP
Ashburnham Municipal Light Plant is always working in our customers' best interests. We participate in and support our community—sometimes behind the scenes, and sometimes in very visible ways. Here are some of our latest announcements, projects and initiatives.
May
2019
NEW BATTERY STORAGE RIBBON CUTTING CEREMONY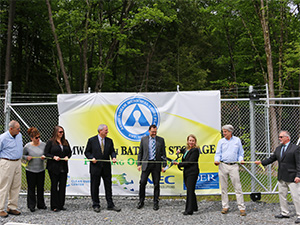 On Wednesday, May 29th, the Ashburnham Municipal Light Plant hosted a ribbon cutting ceremony with state and local officials, for our new 3-megawatt/5-megawatt-hour Battery Storage Project off Williams Road.
This new system from NEC Energy Solutions, stores energy inside the battery container that can be released during Peak Load Periods of heavy electrical usage, reducing peak transmission and capacity payments through cost avoidance.
The $3.5 million Battery Storage Project came online in January. 25% of the project was funded by a grant from the Mass Clean Energy Center. The remainder of the project was financed through a Massachusetts Municipal Wholesale Electric Company (MMWEC) pooled loan program.
See the stories and photos from local newspapers here:
May
2019
THE AMLP RECEIVES MADEP AWARD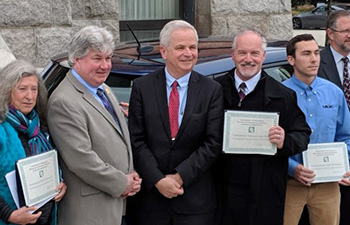 Tuesday, April 23rd, the AMLP was awarded a $7,500 grant from the MADEP to advance the electric vehicle charging infrastructure in Ashburnham. General Manager Kevin Sullivan (4th from the left) is shown here accepting the award.
March
2019
THE AMLP WINS EXCELLENCE IN RELIABILITY AWARD
The AMLP has been recognized by the American Public Power Association for significantly exceeding the reliability average for all U.S. electric utilities. The AMLP participates in the American Public Power Association's e-Reliability Tracker program to track its power outages and restoration against national benchmarks.
See the Award Certificate here →
May
2018
AMLP's Office Manager Receives MEAM Award
The Municipal Electric Association of Massachusetts (MEAM) recently recognized Brooke Csaznowski, the AMLP's Office Manager, with a "2018 Communicator of The Year Award". The decision was made by MEAM's Communications and Energy Services (CES) committee. Congratulations, Brooke!
Click here to read the Press Release details →
Dec
2017
AMLP Receives ACES Grant for Solar Battery Project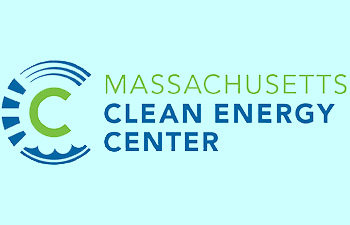 Ashburnham Municipal Light Plant is one of 26 communities to receive a state grant for a $2.5 million battery storage project. The $600,000 grant will cover 24 percent of the cost of a 2-megawatt battery storage system that will reduce Ashburnham's dependency on power from the grid and more.
Click here to read more →
Dec
2017
AMLP Lineman, Jeff Schrecke, Featured in the Worcester Telegram
We're proud of our entire team. On December 16, the Sunday Telegram featured our own Jeff Schrecke, one of our linemen who had just returned from St. Thomas in the US Virgin Islands, helping out with the restoration of their power grid.
Click here to read more at Telegram.com →
Nov
2017
AMLP Donates a Bucket Truck to the US Virgin Islands Water & Power Authority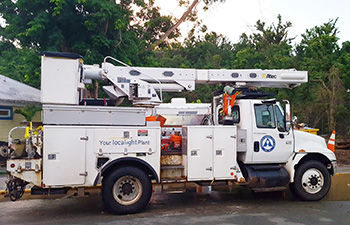 After experiencing the destruction of Hurrican Maria during relief efforts, AMLP donated one of its bucket trucks to the U.S. Virgin Islands Water & Power Authority to assist in the hurricane relief and power restoration efforts on the devastated islands.
Click here to read more in The Gardner News →
Oct
2017
AMLP Sends 4 Linemen to Assist in Virgin Islands Hurricane Recovery Efforts
The US Virgin Islands Water & Power Authority called for mutual aid after devasting Hurricane Maria...and AMLP answered by sending 4 linemen and a bucket truck.
Click here to read the Sentinel & Enterprise article →
Aug
2017
AMLP Light Board Appoints New General Manager
It takes just right the person with the right qualifications and capabilities to run a municipal light plant like AMLP. Kevin M. Sullivan is just the right fit.
Click here to read the Sentinel & Enterprise article →
---
Back to top